Try these healthy holiday food alternatives to stay on track.
Holiday food can tempt and derail even mindful eaters. From the first Halloween treat to the last glass of New Year's bubbly, we are bombarded with occasions that tempt us with decadent goodies. This constant parade of rich foods can make the last few months of the year a challenge for even the most mindful eaters.
Getting through the holidays should be about enjoying yourself in a healthy way so that you can focus your resolutions on more important things, like going on that vacation you keep talking about, reading more books, or being more in the moment—and not (yet again) cleaning up your diet.
Try using this information and these healthy and tasty recipes, courtesy of Chef Abbie Gellman, MS, RD, CDN, recipe/product/menu developer, teacher/educator, and owner of Culinary Nutrition Cuisine LLC, instead of turning to heavier holiday favorites.
See also: Podcast: Simple Great Tasting Food that's Great for You
Roasted Vegetables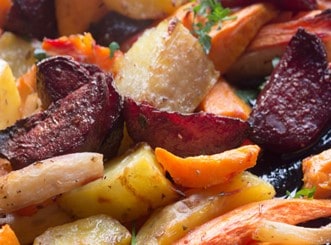 Slow roasting veggies in the oven is a simple, healthful way of heightening flavors and getting more plants on the plate!
Not all holiday food needs to be laden with cream and butter. Something magical happens when you roast a vegetable: Fennel mellows out, carrots sweeten up and beets develop even more earthiness. Use whatever vegetables you like, but here's the basic recipe. Experiment and have some fun in the kitchen!
1 lb beets, peeled and cut into wedges 1/4-inch thick (mix and match colors for added beauty)
1 lb carrots, sliced 1/4-inch thick (again, use a variety: orange, yellow, purple)
1 lb sweet potatoes, unpeeled and sliced 1/4-inch thick
1 lb radishes, sliced 1/4-inch thick
3 T olive oil
1/2 t kosher salt
1/8 t ground black pepper
1/4 t Espelette (or other hot pepper of your choice)
juice of 1 lemon
zest of 1 lemon
2 C microgreens
Preheat oven to 425 degrees Fahrenheit. Toss vegetables with oil, salt and pepper. Arrange in single layer on baking sheets (line sheets with foil or parchment paper). Roast 20 minutes, then turn over and roast an additional 20 minutes. Take out when browned to your liking. In large bowl, mix zest, Espelette and lemon juice. Add roasted vegetables and mix. Mix in microgreens and serve.
Baked Apples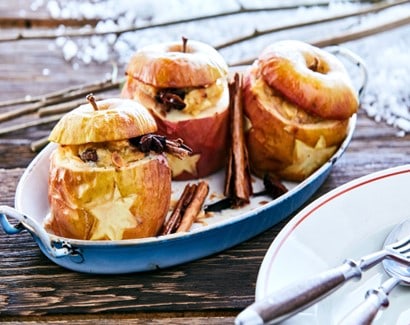 This recipe is visually stunning in addition to packing in fiber, healthy fat and the welcome warmth and aroma of winter spices.
Baked apples are a wonderful seasonal dessert with little to no added sugar. The fiber, healthy fat and protein from the walnuts, combined with the sweetness of the apple and dried fruit, will satisfy any sweet tooth. Makes 2 servings.
1 T walnuts (or nuts of your choice), chopped
1 T raisins
1 T dried cranberries (or any dried fruit of your choice)
1/2 t cinnamon
1/4 t nutmeg
2 medium apples, washed and cored (note: Granny Smith and Honeycrisp hold their shape well when cooked)
1/4 C water
1 t raw honey or maple syrup (optional)
Preheat oven to 350 F. Combine nuts, dried fruit, cinnamon and nutmeg in small bowl. Place apples in small baking dish or loaf pan. Fill the core of each apple with fruit and nut mixture. Pour the water in the dish (optional: drizzle honey/syrup over the apples). Cover with foil (or use oven-proof cover to the dish) and bake for 20–30 minutes or until apples are tender.
Apricot Gelt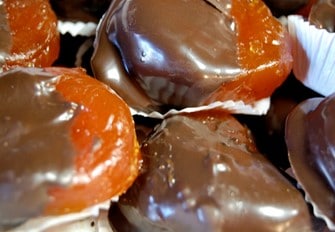 Keep your holiday dessert elegant, light, and nutritious with chocolate-dipped apricots.
A longstanding Hanukkah tradition is to give children chocolate gelt— "coins" made of chocolate wrapped in gold foil. Here's a fruity twist on this traditional holiday food: dried apricots dipped in chocolate and garnished with sea salt for a sweet and salty treat. A great ending for all! Makes about 6 dozen (12 servings; 6 pieces per person).
1/2 lb dried apricots
1 lb dark-chocolate chips
1 T sea salt
Using a heavy skillet or mallet, flatten apricots to about 1/4-inch thick and set aside. Place chocolate in a microwave-safe bowl. Microwave in 15-second intervals, stirring and scraping down sides between, until chocolate is just melted. Dip each apricot in chocolate, coating 1/2–3/4 of the apricot. Place on wire racks set over parchment or wax paper, sprinkle with sea salt, and let stand until set. Transfer apricots to baking sheets lined with parchment or wax paper and refrigerate until firm. Can be refrigerated in an airtight container for up to 3 days.
Make the Switch!
Try these easy (and tasty) holiday makeovers.
INSTEAD OF
scalloped potatoes gratin
fruit-based pie
chocolate gelt
TRY
roasted vegetables
baked apples
apricot gelt
Please review our business at:  Google     Yelp     Facebook
If you'd like to learn more, please visit our Member's Area to access our subscribed content.
Did you know you can work out and exercise with a trainer at your home, office, hotel room, or anywhere in the world with online personal training?
Like us on Facebook/Connect with us on LinkedIn/Follow us on Twitter
Make sure to forward this to friends and followers!