If you have diabetes, you may want to consider the health benefits of a whole foods, plant-based (WFPB) diet. A plant-based diet, in general, is a very viable diet alternative if you are looking to eat healthier.
Reduces Risk of Diabetes
Many studies have been done to show the extensive benefits of a plant-based diet in people's health. It has been shown to even be able to reduce the risk of diabetes.
If you have diabetes already, this diet can help you to manage it better, keep it from progressing, and possibly reverse it (type 2). This is very important as diabetes can quickly progress into something more severe.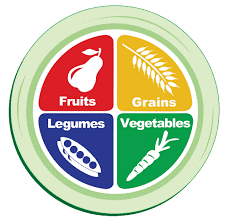 Manages Weight, too, while eating ad libitum
For those not familiar with the term, it means you can eat as much as you want. When what you eat is WFPB, not only will you not gain weight, you will likely lose some, sometimes a lot!
How is this possible you might rightly ask?
The answer is feeding the body what it is designed to eat, and not feeding it what it is not designed to eat. As to what to eat, here is the WFPB version of MyPlate (courtesy of the Physicians' Committee for Responsible Medicine):
While what is on the plate is obvious, you should also make note of what is NOT on it: meat (including fish, chicken, turkey, pork, etc.), dairy, eggs, oils, foods with added sugar, and highly processed foods. Once again, how is this possible you might rightly ask?
We can tell you it is AND it can taste incredible! While it this may not happen overnight, if you are like most who have made the switch, it can happen surprisingly quickly. You will find your enjoyment and satisfaction from what you eat will actually increase!
Increases Heart Health
A whole foods, plant-based diet is a very heart-healthy diet for anyone, whether you have diabetes or not. This diet reduces inflammation and lowers cholesterol naturally.
It can also lower blood pressure, which has a direct effect on the health of your heart.
Those with diabetes are already at a greater risk of getting heart disease, which is why this diet is so beneficial. By eating a heart-healthy diet, you are actively taking better care of your heart's health.
Encourages Better Nutrition
So yes, better for your diabetes. So yes, better for your heart health. By starting to eat WFPB, you are also ensuring better nutrition in your diet. This means better overall health, period.
Sure, there are things to learn regarding this new way of eating, but know it is not like rocket science! It is far, far easier…and a lot more fun and tastier!
The list of aches and pains that can be helped by pursuing this dietary path is extensive. After all, it is not hard to realize what you put in your body has a large influence on the functioning of that body. When you fill it with nutritious, health-promoting foods you can't help but feel better.
Conclusion
Eating a plant-based diet made up of whole foods is the way to go if you are serious about improving your health. Those with diabetes must be especially careful with their diet, and this can be a great option.
It provides easy and healthy foods that encourage better health and nutrition. It can help you manage your diabetes as well as feel better in your body overall.
It may take some time to get used to, but this diet can be extremely beneficial. It can help you manage your weight, diabetes symptoms, and dramatically improve the kind of nutrition you are getting.
Please review our business at: Google Yelp Facebook
If you'd like to learn more, please visit our Member's Area to access our subscribed content.
Did you know you can work out and exercise with a trainer at your home, office, hotel room, or pretty much anywhere in the world with online personal training?
Like us on Facebook/Connect with us on LinkedIn/Follow us on Twitter
Make sure to forward to friends and followers!