Your Nutritional Moment of Zen
Assuming of course doctors ever recommend food…
That is not to say that none do, but most don't. I mean, you might get "You should eat a more balanced diet," (whatever that is…) or "Eat more vegetables and eat less dessert." But that's typically where the dietary advice will stop.
With the recent arrival of an incredible array of meatless meats so like the real thing you could bring a cow to tears, maybe there is finally something specific doctors can heartily recommend you consume for your health. Or maybe not…
If there's one, there's at least a dozen![1]
To use a maybe slightly "curious" exclamation here: Holy Cow!
Impossible Burger (Probably the top guy on the meatless meat totem pole these days)
Beyond Burger (Made by Beyond Meat. Price per share at their recent IPO – $25. This summer's price – $168!!!)
Dr. Praeger's All-American Burger (Actually started by two doctors, though I am not sure either was named Praeger. Among their other products is gefilte fish, a traditional Jewish dish that is as almost as far from healthy as you can get.)
Gardein…and good old-fashioned Garden Burgers (The original garden burger was invented in the 80's by Paul Wenner. Kellogg owns the rights now…)
Boca Burger (Owned by Kraft Heinz, the ketchup folks)
Sweet Earth Burger (Been around since '78. Known for their "Mediterranean flair")
Amy's (Started in '87 by Andy and Rachel Berliner. Amy is their daughter. 250 different products, 2,400 employees!)
Hilary's (No relation I believe to a former presidential candidate, though her husband is now a paragon of whole food, plant-based eating – No lie!)
And more all the time!
You can get these at just about every fast food restaurant…with two notable exceptions
Red Robin, Qdoba, White Castle, Carl's Jr., Del Taco (???), Burger King, A & W and more, but no McDonald's (at least in the U.S.) and no Wendy's, at least not yet, though IKEA is looking at selling a meatless meatball – No assembly required.[2]
This is all good, right?
As much as I would like to offer up a definitive "Yes" or "No" to that question I can't. We are more in the "Yes and No" category. Meatless meat definitely has some plusses, but likewise also some minuses – hype and hoopla withstanding.
Where good –
People have traditionally gone meatless for three reasons, either all or a combination thereof:
Healthier for themselves[3]
Healthier for the planet / environment (Meat uses a ton of resources, both land and water, while at the same time poisoning the living crap out of them. I wish this was only my opinion, but it's not.)
Healthier for the animals traditionally involved, but now not (If animals had a say in their being used as a food source for humans I suspect precious few would vote in favor.)
The Impossible Burger and friends definitely cover all three of these, so a big thumb's up here, but…
Where not so good –
Every one of these burgers is a highly processed food. They are a far cry from being "whole food, plant-based", the gold standard based on everything they are teaching me at nutrition school. Check out the ingredients list for The Impossible Burger and the Beyond Burger (from their respective websites):
Impossible Burger:
Water, Soy Protein Concentrate, Coconut Oil, Sunflower Oil, Natural Flavors, 2% or less of: Potato Protein, Methylcellulose, Yeast Extract, Cultured Dextrose, Food Starch Modified, Soy Leghemoglobin, Salt, Soy Protein Isolate, Mixed Tocopherols (Vitamin E), Zinc Gluconate, Thiamine Hydrochloride (Vitamin B1), Sodium Ascorbate (Vitamin C), Niacin, Pyridoxine Hydrochloride (Vitamin B6), Riboflavin (Vitamin B2), Vitamin B12.
Beyond Burger:
Water, Pea Protein Isolate*, Expeller-Pressed Canola Oil, Refined Coconut Oil, Rice Protein, Natural Flavors, Cocoa Butter, Mung Bean Protein, Methylcellulose, Potato Starch, Apple Extract, Salt, Potassium Chloride, Vinegar, Lemon Juice Concentrate, Sunflower Lecithin, Pomegranate Fruit Powder, Beet Juice Extract (for color)
Don't eat these to lose weight, because you probably won't; and don't think they will help you lower your blood pressure, because that's not likely either.
Once again, from their websites: (Impossible Burger on the left, Beyond Burger on the right)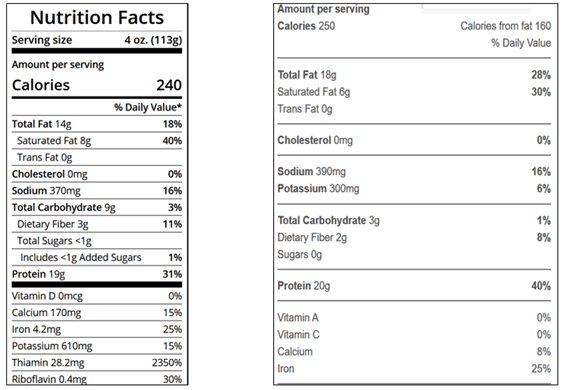 Outside of the insane amount of thiamin (vitamin B1)[4] in the Impossible Burger, they are pretty similar in their nutritive, or lack thereof, value. On the fat front / good luck with the weight loss idea, both do their very reprehensible best to be as deceptive as possible. One is not under 18% and the other is not under 28%. Those numbers represent the percent of your daily recommended intake of fat is in each 4oz. (that's right 4oz.) burger. I did the math – That corresponds to a diet that is 35% fat, just slightly more than Dr. John McDougall's target of 10%…
To keep things totally honest, The Impossible Burger is 52.5% fat and the Beyond Burger is 64.8% fat.[5]
As for blood pressure and salt, the jury is still out on how much salt can cause blood pressure issues, but everyone agrees it is best to be at least moderate in your intake. Neither burger meets that standard. Nutritionist Jeff Novick rule of thumb is the sodium (mg) in a serving should be no more than the calories, so 240mg for one and 250mg for the other. Oops – At 370mg and 390mg both are about 1.5x. (For frame of reference, a Big Mac's sodium content comes in at 1.92x making these alt-burgers a clear comparative step in the right direction, though still very much buried in the red.)
Consider "The Impossible Burger and friends" as more akin to "halfway houses" on the road to healthy eating – a waypoint if you will, but not, definitely not, The Promised Land.
You may imagine these "meatless miracles" as coming from the picture on the left, but the reality is the photo on the right is more likely the accurate representation:

Don Rothenstein
"Nutritional Zen Master in Training"
The Wellness Forum Institute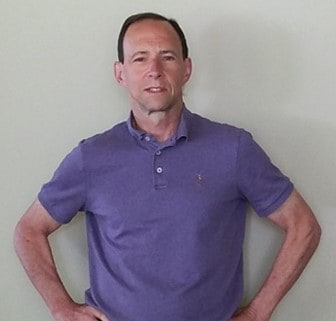 ---
[1] Much of the factual info in this week's Zen comes from Ocean Robbins (Yes the grandson of the Robbins in Baskin-Robbins) and my teacher and mentor, Dr. Pam Popper. The "attitude" is, as always, pure me.
[2] It took me a while to figure this one out. It must be the "Swedish" angle.
[3] Replacing Animal Protein with Plant-Based Protein Lowers Risk of Death from Cancer and Heart Disease. Budhathoki S, Sawada N, Iwasaki M, et al. Association of Animal and Plant Protein Intake With All-Cause and Cause-Specific Mortality. JAMA Intern Med. Published online August 26, 2019.
[4] Nobody knows whether this amount of B1 is toxic. I am guessing because nobody has ever been crazy enough to put that much in food. There is no mention of why the maker decided, or had no choice, to include so much.
[5] If you want to do the math yourself, there are 9 calories per gram in fat. Protein and carbohydrates, for the record, each have 4 calories per gram, less than half of fat's total. Fat is indeed fat.
Please review our business at: Google Yelp Facebook
If you'd like to learn more, please visit our Member's Area to access our subscribed content.
Did you know you can work out and exercise with a trainer at your home, office, hotel room, or anywhere in the world with online personal training?
Like us on Facebook/Connect with us on LinkedIn/Follow us on Twitter
Make sure to forward this to friends and followers!