Sylvia Gonsahn-Bollie, MD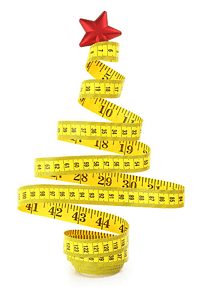 Five pounds of weight gain during the holidays is a disproven myth that pops up annually like holiday lights. But before you do a happy dance and pile that extra whipped cream on your pie, you should know two things. One, people do gain weight during the holidays. Two, the extra pounds tend to stick around because most people never lose their holiday weight. Over time, these extra pounds can lead to obesity and weight-related conditions such as diabetes and hypertension.
Let's be clear. Your weight is one of many markers of your wellness and metabolic health. However, weight changes can indicate that your health is off balance. Holiday weight gain often comes from indulging in increased rich foods, less physical activity, higher stress levels, and sleep disruption.

Optimizing lifestyle factors and trying to lose weight is challenging any time of the year. However, the holiday bustle makes losing weight during this time even more challenging for most people. But maintaining your weight & overall wellness is manageable with three simple shifts in mindset, mindful eating, and meal strategy. Let's discuss each.
Mindset. From personal and professional experience, I see two primary attitudes regarding holiday eating. They are either "I'll wait till January to go on a diet" or "I'm on a diet, so I can't eat anything I like during the holidays." Both attitude extremes prevent enjoyable and healthy eating during the holidays because they place the focus on food. With both mindsets, food is in control, which leaves you feeling out of control. Rather than having an "all or none" mindset during the holidays, I encourage you to ask yourself:
"What matters most to me during the holidays?" In a recent survey, 72% of Americans said they look forward to spending time with family during the holidays. Although food often accompanies family celebrations, it's the time with family that matters most. Choose to savor sweet time spent with loved ones instead of stuffing yourself with excess sugary sweets.
"How can I enjoy myself without food or alcoholic beverages?" So often, we eat or drink certain foods out of habit. Shift your mindset from "we always do this" to "what could we do instead?" Asking this question may be the doorway to creating new, non–food-centered traditions.
"How can I have the foods I love during the holidays and still meet my weight and wellness goals?" This question helps you create opportunities instead of depriving yourself. Rather than depriving yourself, you could cut back on snacking or reduce your sugar intake elsewhere. Or add an extra workout session or stress reduction practice during the holidays.
Mindful eating. The purpose of mindful eating isn't weight loss. Some studies suggest it may help maintain weight. More importantly, mindfulness can improve your relationship with food and promote wellness. Traditional tips for mindful eating include doing the following as you eat: being present in the moment, not judging your food, slowing down, and savoring the taste of your food. During the holidays, asking additional questions may enhance mindful eating. For instance:
Am I eating to avoid uncomfortable emotions?" The holidays can trigger emotions such as grief, sadness, and anxiety. Also, preexisting mental health conditions can worsen. Decadent foods become a quick fix leading to more emotional eating during this season. Addressing these emotions can help you avoid overeating during the holidays. For mental health resources, visit the National Alliance on Mental Illness.
"What food or drink do I most enjoy during the holidays?" Trying to resist your favorite holiday treats can be an exhausting test of "willpower." Eventually, cravings win for biological and psychological reasons, and you "cheat" on your plan to not eat holiday treats. To prevent this painful battle of treat vs cheat, plan to eat your "indulgence food" in moderation. Savor the foods you enjoy. Then cut out the rest of the food you don't like or feel you must eat because "Aunty Sarah will feel bad."
Meal strategy. Many holiday treats and parties are unavoidable unless you plan to hide in a cave for the next few weeks. Rather than torturing yourself nibbling on celery and sipping on sparkling water during your holiday event, create a strategy. For 8 years, I've been on my weight loss and wellness journey. I have a holiday strategy that helps my patients, clients, and me maintain our weight and wellness during the holidays. One critical part of the strategy is to anticipate indulgence events. Specifically, look at all the planned holiday events and choose three indulgence events. The rest of the time, do your best to stay on your plan. Knowing your indulgence events to look forward to gives you a sense of control over when you indulge. On non-indulgent days, think, "I can eat it but choose not to" instead of the limiting thought, "I can't eat that." Choice is a powerful tool. Once at an indulgence event, I focus on mindful eating and enjoying people around me, which cuts down on overeating just because "I can."
This holiday season is a reunion time for many people, after enduring long separations from family and friends due to the pandemic. Relishing time with loved ones should be your focus during the holidays — not eating yourself into worse health or worrying about dieting. Even if you choose not to make all the shifts in mindset, mindful eating, and meal strategy mentioned, choosing even one change to focus on can help you both enjoy the holidays and have increased control over your weight and wellness. Whatever you do, may you and your loved ones have a safe, healthy, and enjoyable holiday season.
Sylvia Gonsahn-Bollie, MD, DipABOM, is an integrative obesity specialist who specializes in individualized solutions for emotional and biological overeating. Connect with her at www.embraceyouweightloss.com or on Instagram @embraceyoumd. Her bestselling book, Embrace You: Your Guide to Transforming Weight Loss Misconceptions Into Lifelong Wellness, is Healthline.com's Best Overall Weight Loss Book 2022 and one of Livestrong.com's picks for the 8 Best Weight-Loss Books to Read in 2022.
Please review our business at:  Google     Yelp     Facebook
If you'd like to learn more, please visit our Member's Area to access our subscribed content.
Did you know you can work out and exercise with a trainer at your home, office, hotel room, or anywhere in the world with online personal training?
Like us on Facebook/Connect with us on LinkedIn/Follow us on Twitter
Make sure to forward this to friends and followers!