The global health and wellness industry is expanding at a solid pace. In the U.S., the sector's profit is expecting a yearly growth of 5% until 2024. And one reason why the health and wellness sector is experiencing such growth is that people are beginning to pay more attention to their physical and mental health.
But great growth brings greater competition. And with how the healthcare sector is expected to see a 13% growth between 2021 and 2031, any new entrepreneur venturing into the health sector must possess the singular, most effective tool that can help their business stand out and shine in its niche and that tool is branding.
Branding can help you establish customer trust, set your brand apart from competitors, and give your business a consistent internal and external identity.
At Squadhelp, we understand that branding a health business can be tasking, especially for new entrepreneurs, so we'd be showing your ten master keys that can help you build an intriguing brand.
Let's jump right in!
First, Build Your Brand Image
Regardless of which niche you choose to focus on, building a great health business demands that your brand becomes your most valuable asset. Customers are more inclined to support a health brand because of its brand and perceived value than for its products or services.
So be sure you carefully consider how you communicate your brand's core values, aims, tone, color, personality, and value proposition. This knowledge is essential for creating an attractive identity that resonates with your target market.
And speaking of identity, if you're having trouble coming up with your brand or health product names, using a strong business name generator can help you get an exciting brand name easily.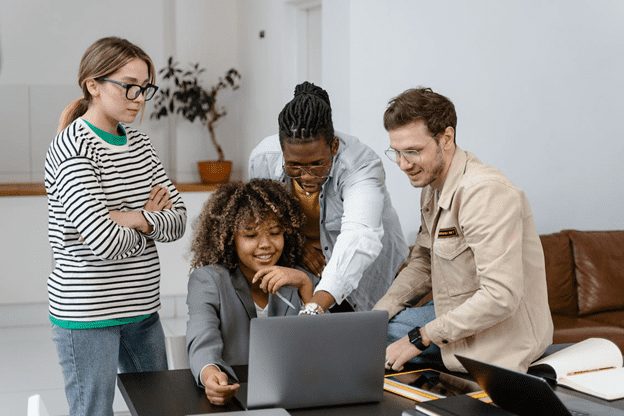 Today, a lot of people do their shopping and other business exclusively online. As a result, every health and wellness brand that wants to engage with its target market effectively must know how to use the internet to get the attention, support, affection, and respect of its target audience.
Building an exciting online presence is the best way to show your brand personality to your core audience.
Incorporate Creativity into Your Advertising
The easiest approach to reaching an audience today is through advertising. Now, most health brands are known for releasing dull and preachy ads, so the best way to pique your audience's attention is by spicing up your ads and making them stand out while conveying a clear message that addresses a major pain point of your target customers.
Making your ads catchy and memorable to customers is the first step to positioning your business in their minds.
There are several health and wellness businesses in your niche, and they all provide similar services to your brand. The simplest method to distinguish yourself from the competition is to become a trendsetter by constantly pursuing innovation and creatively delivering new services to your clients.
If your brand must be regarded as a trendsetter, it must remain at the forefront of new technology. Take it from us; customers find forward-thinking and innovative brands irresistible.
Express Your Appreciation to Your Clients!
To build a powerful health brand, you need to show your customers that you care deeply about their well-being by going above and beyond to satisfy their needs. Also, ensure you positively engage with your audience on social media. Everyone, even your customers, wants to feel loved.
Never stop searching for methods to enhance your company's operations, produce better services, or reduce pricing to serve your clients better.
Support the Values of Your Audience
Within the last ten years, the way customers view businesses has changed. Customers no longer want their favorite businesses to avoid speaking out on significant issues like the preservation of the environment.
So, take the time to research what strong values your customers share. Is it their mental health? Family? Or the environment? Ensure you build your brand around your values.
Your brand will not only be more relatable, but it'll also project the picture of a caring organization if you prioritize the values of your audience over profits. This would help you position your brand as a friend rather than simply another lifeless health company.
Pick Your Niche Carefully
Building a robust client base and a reliable reputation takes a lot of time and effort, especially when you're just getting started. So, instead of attempting to dominate a whole sector, it is advisable to concentrate all of your attention on a single sector.
Additionally, be cautious of oversaturated or untapped markets when selecting a niche because they can either suffocate or limit your health brand.
Collaborate With Exceptional People
In today's health market, partners are a great advantage. By concentrating on different areas like product testing or fulfillment services, they can aid in the expansion of your company. Your health and wellness brand will expand more quickly if you find reliable partners.
Don't Ignore Your Product's Credibility
If you market your product just right, there will be millions of people watching its debut. And one thing you don't want is for any unresolved issue with your product to get in the way.
Releasing health products with side effects will do so much damage that your health brand may never recover from.
So, ensure you get a group of experts to do an in-depth evaluation of your brand's products and services before you release them to the public.
Examine Failures in the Health and Wellness Business Sector
There are several reasons why companies fail. Some failed because of a lack of funding, while others failed due to bad planning or legal activities. Research every failed health brand in your niche and find everything they did incorrectly and draw key lessons from it. This way, you can stop your business from repeating that kind of history
Grant Polachek is the head of branding for Squadhelp.com, 3X Inc 5000 startup and disruptive naming agency. Squadhelp has reviewed more than 1 million names and curated a collection of the best available names on the web today. We are also the world's leading crowdsource naming platform, supporting clients from early-stage startups to Fortune 500 companies.
Virtual Exercise Trends: A Guide to the Growing Popularity of Online Exercise
Branding for Non-Profit Organizations: The Definitive Guide
Please review our business at: Google Yelp Facebook
If you'd like to learn more, please visit our Member's Area to access our subscribed content.
Did you know you can work out and exercise with a trainer at your home, office, hotel room, or anywhere in the world with online personal training?
Like us on Facebook/Connect with us on LinkedIn/Follow us on Twitter
Make sure to forward this to friends and followers!